LearnAboutGuns.com Premium is a $2.99/month subscription service that offers email and RSS feed access to the full LearnAboutGuns.com article content, faster email response, and the knowledge that you are helping to support LearnAboutGuns.com. You can click here to subscribe through PayPal, or read more about LearnAboutGuns.com Premium below. Once you subscribe, you will immediately receive your LearnAboutGuns.com Premium subscription information. Subscriptions can easily be canceled at any time by clicking the unsubscribe button button below, or logging in to your PayPal account.
Access to the full LearnAboutGuns.com RSS feed article content:

Rather than having to come to LearnAboutGuns.com to read the daily articles, you can get entire articles in your RSS reader or by email – including images! An example of the free LearnAboutGuns.com RSS feed (which contains only a brief summary of the article), followed by the LearnAboutGuns.com Premium RSS feed (which contains the entire article), can be seen below:
Basic Email / RSS Feed Example Screenshot:


Premium Email / RSS Feed Example Screenshot: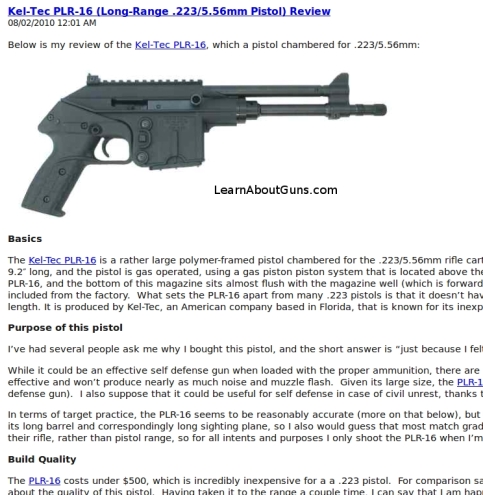 Faster email response
Since starting LearnAboutGuns.com, I've made a point of responding to every email that I have received As this site has grown, the volume of email has increased. Now that I am an attorney, I also have more demands upon my time than ever. The result has been an increase in the amount of time that it takes me to respond to emails. As a LearnAboutGuns.com Premium subscriber, your emails will be answered first. To be clear, I will continue to answer all of my email, be it from LearnAboutGuns.com Premium subscribers or not, with the same effort put into all responses. Subscribing to LearnAboutGuns.com Premium will simply result in faster email responses.
The knowledge that you're helping to support LearnAboutGuns.com
Subscription payments from LearnAboutGuns.com Premium will help to offset the costs I incur running this website.

Join the NRA today and do your part to help preserve our gun rights (and save $10).
Tags for this article: News