Below is my review of the Magpul PMAG polymer AR-15 magazine: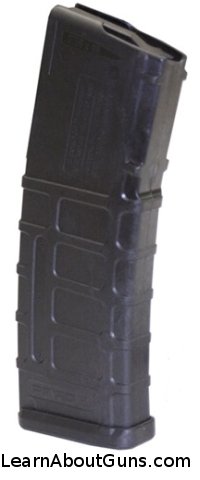 Basics
The Magpul PMAG is an AR-15 (and M-16) compatible magazine that has become my magazine of choice.  Unlike most AR-15 magazines, it is made of polymer instead of metal.  This results in a lighter weight, corrosion resistant magazine that is still exceptionally strong and durable – more durable than the factory magazine that came with my AR-15.  The main body of the PMAG is made from a single piece of molded polymer, further enhancing structural strength and preventing any snag points that might catch the follower or cause feeding problems.  The polymer used to construct the PMAG is resistant to heat, as well as gun cleaning solvents.  The floor plate is removable for easy cleaning, and replacement of the spring, should the need ever arise.  A plastic cover is provided so that magazines can be stored loaded for long periods of time, without putting stress on the feed lips.  A catch notch, rather than the hole used by most AR-15 magazines, the PMAG uses a catch notch, which means there is one few way for dirt and debris to make their way into the magazine.
Options
The standard PMAG has no window, but the MagLevel PMAG has a plastic window on the side showing how many rounds are in the magazine.  Magpul says that this version of the PMAG is just as durable. The PMAG comes in black,  flat dark earth, and foliage green for those who like color choices.  30 and 20 round versions are available, with more options coming soon.  For me, the standard black 30 round PMAGs work just fine, and those are what I've bought.
Loading
One of the nicest things about the PMAG is the anti-tilt follower.  It makes loading quite easy, as does the textured surface of the magazine.  Unlike with cheap AR-15 magazines, I've yet to find a rough edge or other manufacturing flaw with the PMAG.
Reliability
I haven't had any problems while using the PMAG.  While I don't run my PMAGs over with my vehicle, the people in the video below did.  The result was that the PMAG survived being run over and otherwise abused by a pickup truck, while many other magazines failed.  Although I'm very gentle with my magazines, I suppose it is good to know that I could run them over and still use them…
Conclusion
I've become quite a fan of the PMAG, and recommend it.  The price is only a few dollars more than the cheap AR-15 magazines, and I find that to be a few dollars well spent.
Click here to purchase the Magpul PMAG online


Join the NRA today and do your part to help preserve our gun rights (and save $10).
Tags for this article: Gun and Accessory Reviews, Rifle