Below is my review of the Barska AC10330 42mm Red Dot Scope, which is one of the least expensive red dot scopes on the market: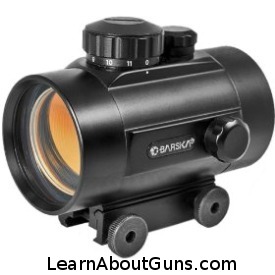 Basics
1x magnification
42mm objective lens
5 MOA (Minutes of Angle) reticle
Finger adjustable rheostat (11 brightness levels)
Integrated mount
Unlimited eye relief
42mm exit pupil
Batteries: 3v Lithium coin-type
Cost
The only truly notable thing about this red dot scope seems to be the price.  It can be purchased for about $30, which is considerably less than an "average" red dot scope, and about 20x less than a top-of-the-line red dot scope.
Because of the low price, I initially overlooked the Barska AC10330 when shopping for a red dot scope to mount on my latest rifle, a MSAR STG-556.  However, after considering the matter for a while, I decided that I would buy two red dot scopes: an inexpensive red dot scope now, and a top of the line red dot scope in a few months.  The inexpensive red dot scope would allow me to fire the rifle now, as it came without sights and I therefore had to install some sort of sighting device.  Since I had just bought the rifle, I decided against immediately spending hundreds of dollars more for the Aimpoint red dot scope that I really wanted, especially since I don't plan to do all that much rifle shooting until the winter is over (I'm not a fan of the cold
).
Ergonomics
This is an area where the Barska AC10330 comes up short of my expectations.  There is a top mounted rheostat dial that the user turns in order to set the red dot's brightness, with the "0" position turning off the red dot scope entirely.  Turning this dial takes more effort than I expected, and a separate on/off push button would be more convenient than combining the brightness and on/off controls.
Accuracy
The Barska AC10330 red dot scope meet my accuracy expectations, so there is little to report here.
(It is worth nothing that with a 5 MOA red dot, long range accuracy isn't going to be all that great.  That is because the dot is rather larger, relative to a distant target, making it difficult to determine on exactly what part of the target the bullet will land. However, the point of a 1x magnification red dot scope is quick target acquisition at close/medium range, rather than long range accuracy, so long range accuracy isn't really an issue.)
Reliability
So far, I've fired a few hundred rounds through the MSAR STG-556 on which my Barska AC10330 red dot scope is mounted, and have not experienced any problems.  The red dot scope has stayed zeroed in and dealt with the (admittedly modest) recoil quite well.  I didn't put any Loctite thread locker on the screws that hold the red dot sight to the accessory rail, yet it hasn't come loose.
Conclusion
The Barska AC10330 is a very inexpensive red dot scope that should meet many user's needs.  Its ergonomics are somewhat lacking, but the price is hard to beat.

Join the NRA today and do your part to help preserve our gun rights (and save $10).
Tags for this article: Gun and Accessory Reviews