This Guns 101 article provides basic information about revolvers, which are a type of handgun: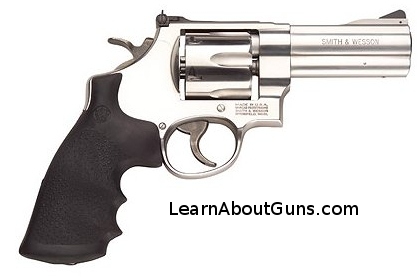 Basics
Revolvers (also sometimes called "wheel guns") are a type of handgun.  The defining characteristic of a revolver is that ammunition is held in a revolving cylinder.  Each round of ammunition is in its own chamber, which lines up with the barrel when it is time for that round to be fired.  This differs from semiautomatic pistols, which generally have just one chamber (that is part of the barrel), and move cartridges in and out of that chamber for firing.
Single action revolvers require that the user manually pull back the hammer (located at the rear of the gun), in order to rotate the cylinder and cock the gun before pulling the trigger for each shot. Double action only revolvers require only that the user pull the trigger, which will result in the cylinder being rotated and the hammer being cocked, and then the gun will fire, all in one trigger pull.  Double/single action revolvers allow the user to operate the gun using either mode.  Most modern revolvers are double/single action or double action only.  Single action revolvers, and double/single action revolvers being fired in single action mode, tend to have require that less pressure be applied to the trigger. For example, a revolver may require 3 pounds of trigger pressure in single action mode, and 6 pounds of trigger pressure in double action mode.
Ammunition
Revolvers generally used rimmed cartridges, which are cartridges that have a protruding ridge at the base (see the picture below, of a .38 special round, as an example).  This rim is important because it gives the revolver's ejector a surface against which to press, allowing the easy removal of spent cartridges.  Some common revolver cartridges are .22 long rifle, .357 magnum, .38 special, and .44 magnum.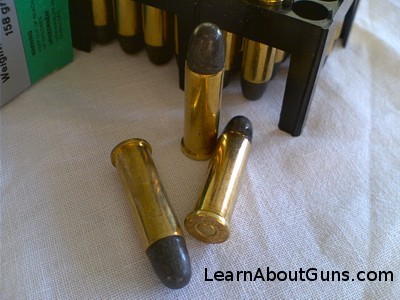 Some revolvers, such as the Smith and Wesson Model 610, are chambered for rimless cartridges (see picture below, of a 9mm round, an example).  These cartridges don't have a rim at the base, but instead have a grove near the base.  The benefit of using rimless cartridges is that these revolvers can fire the same ammunition as the user's semiautomatic pistol.  For example, I own a Smith and Wesson Model 610 because it can fire the same .40 S&W ammunition as my favorite pistol, the Springfield XD-40. Since these cartridges lack a rim for the revolver's ejector to press against, such revolvers use moon clips to hold the rounds together for easy loading and ejecting.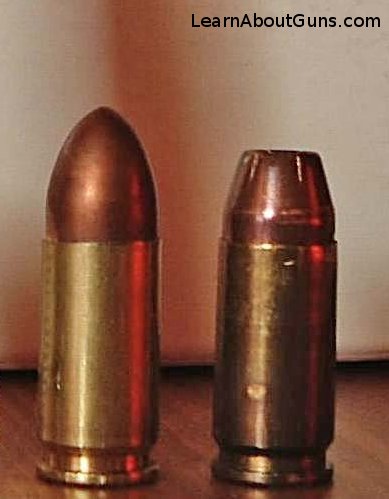 Revolvers versus semiautomatic pistols
+ The key advantage that revolvers have over semiautomatic pistols is reliability.  Should a round fail to fire on a (double/single action or double action only) revolver, the user need only pull the trigger again to fire the next round.  On a semiautomatic pistol, the user would need to manually pull back the slide to chamber another round.  In a life or death situation, that added reliability can be an advantage – especially for those who are newer to gun ownership.  Additionally, revolvers are less mechanically complex, further reducing the potential for unreliability.  That said, modern pistols are quite reliable, and I would have no problem trusting my life to either a pistol or revolver.
+ Another advantage that revolvers have over pistols is that revolvers don't automatically eject spent cartridges.  This can make clean-up at the shooting range easier.
+ Although just about every gun is simple and easy for even a beginner to learn to use, revolvers tend to be simpler than semiautomatic pistols.  Some have as few as three controls: a button to allow the cylinder to swing out for loading/unloading, the ejector to remove spent cartridges, and the trigger to fire the gun.
– On the down side, revolvers tend to hold fewer rounds than semiautomatic pistols.  For example, many revolvers hold 6 rounds, while a capacity of 12 or more rounds is common on modern pistols. While most self defense gun uses don't require more than 6 rounds, it is better to have extra rounds and not need them, than to need extra rounds and not have them.
– Revolvers also tend to be bulkier than semiautomatic pistols, due to the protruding cylinder that is the revolver's defining characteristic.  This bulkiness can be a major drawback for concealed carry permit holders.