A recent police raid in Chicago's Austin neighborhood, in which an anti tank rocket launcher and 13 firearms were recovered, shows the futility of Chicago's handgun ban: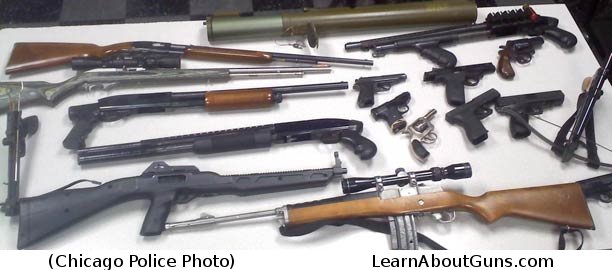 Fourteen weapons, including a rocket launcher, were seized when Chicago police executed multiple search warrants in the West Side's Austin neighborhood, police said today. Police made one arrest and also seized a number of boxes of live ammunition of various calibers.The arrestee, 41-year-old Andre Tatum, of the 800 block of North Lawler Avenue, was charged with 11 counts of misdemeanor firearms possession and one count of misdemeanor possession of ammunition, police said. During one of today's seizures, which was executed at Tatum's residence, police confiscated five semiautomatic handguns, four rifles, two shotguns, and 15 boxes of live ammunition of various calibers, according to police. Other warrants executed today by police led to the confiscation of three more weapons. Among those weapons was a light anti-tank rocket launcher. Tatum is scheduled to appear in court at 9 a.m. March 4.
The recent seizure of an anti tank rocket launcher and over a dozen illegally owns firearms should be a wake-up call to those who support gun control.  To recap, Chicago has banned handguns and strictly regulated other firearms since before I was born.  Yet, criminals (being criminals) routinely ignore Chicago's gun ban, just as they ignore the laws against robbery and murder.  Rather than disarming criminals, Chicago's handgun ban just ensures that those criminals have a monopoly on guns, while their victims are unarmed and defenseless.
Hopefully, the Chicago handgun ban will soon be struck down by the Supreme Court in McDonald v. Chicago, allowing Chicago's law abiding citizens to defend themselves.

Join the NRA today and do your part to help preserve our gun rights (and save $10).
Tags for this article: Crime, Criminal, Gun Ban, Gun Control, Gun Rights, Safety, Self Defense