Below is my review of the Smith & Wesson Governor, a revolver that fires .410 shotgun shells, .45 LC, and .45 ACP.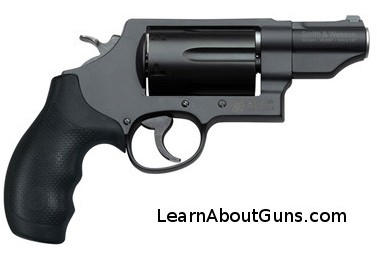 Basics

The Governor is Smith & Wesson's answer to the Taurus Judge, providing a revolver that can fire 2.5″ .410 shotgun shells as well as .45 Long Colt cartridges.  The Smith & Wesson Governor can also fire .45 ACP when using moon clips.  Unlike the 5 shot Judge, the Governor holds 6 rounds.  The frame is made of an alloy for a weight that is just under 30 ounces, and the grips are synthetic. The Governor supports both single action and double action.  The barrel is 2.75″ (more on that below), and the options include your choice of color and factory installed Crimson Trace Laser Grips.  Overall length is 8.5″.
Build Quality
The Governor's quality is about what one would expect from a nice Smith & Wesson revolver. As with my other two Smith & Wesson revolvers (the 500 610), I couldn't be happier with the fit and finish of this revolver.  It is (for a revolver) light weight, yet feels nice and solid.  There are no machining marks or other indications of poor quality, and the action is wonderfully crisp in single action mode.
Ergonomics
As I found with my Smith & Wesson Model 610, the double action trigger pull is much heavier than I've become accustomed to from firing semi-automatic pistols, but it is workable.  I find that I'm noticeably more accurate firing in single action mode.
Reliability
The Governor is a revolver, which by definition pretty much means excellent reliability.  Revolvers are mechanically simple, so there are fewer parts to break than on a semi-automatic pistol.  Also, unlike semi-automatic pistols, revolvers don't rely upon a cartridge firing properly in order to feed the next cartridge.  If a round fails to fire in a semi-automatic pistol, that round must be manually ejected before the next (hopefully non-defective) round can be chambered and fired.  In a double action revolver, the shooter need only pull the trigger again to fire the next round.
Accuracy
In single action mode, I find myself to be more accurate with the Governor than with my 3″ Springfield XD 40, but ever so slightly less accurate than my 5″ Springfield XD 40.  My Model 610 remains more accurate.
Barrel Length
As discussed above, the barrel is 2.75 inches, but when firing .45ACP the effective barrel length is a bit longer. That is because the .45 ACP cartridge is shorter than the .410 shotgun cartridge that the chamber also has to be able to hold.  I haven't done any testing as to the velocity increase that this provides when firing .45 ACP, but I'm sure it only helps add to the muzzle velocity.
Ammunition Choices
The best ammunition for self defense against humans seems to be .45 Long Colt. A close second would be .45 ACP.  Either .45 LC or .45 ACP will provide more energy and a larger diameter projectile than anything coming out of a .410 shotgun cartridge.  To be sure, some of the .410 loads that include a slug and then buckshot seem interesting, but looking at the energy numbers and penetration data, I am not convinced that they are better options.
I put .45 ACP as the second choice mainly due to the moon clip situation.  Firing .45 Long Colt doesn't require the use of moon clips, while firing .45 ACP does require moon clips.  Smith and Wesson provides two different types of moon clips with the Governor: full moon clips that holds 6 rounds, and third moon clips that holds 2 rounds.  The third moon clips are a nice option as they allow the user to mix and match .410, .45LC, and .45 ACP.
The first time I used a full moon clip on the Governor it fired without issue.  When I went to remove the spent .45 ACP cartridges, I found it to be rather difficult.  It took the help of a car key to pry them free, and in the process I managed to bend the full moon clip to the point that I could no longer make the clip work with the Governor.  I was able to bend the full moon clip back into position using my fingers and resume shooting without issue.  After some practice, I was able to more quickly extract the spent .45 ACP cartridges without bending the full moon clip, although it still required the use of a car key.  This is noticeably more difficult than the Model 610 full moon clips.
Conclusion
I find the Smith & Wesson Governor to be a fun a revolver to own and shoot.  The versatility to fire .410 shotgun shells, .45 Long Colt, and .45 ACP is useful, and since I don't own many firearms chambered for .45 ACP, I especially appreciate that fact.  I'm still not a fan of birdshot for self defense against humans, for the reasons previously mentioned, but there are some interesting .410 self defense loads that have been developed for the Judge and Governor.  That said, I don't see this revolver as an ideal carry gun due to its weight and size, so that isn't really a concern for me.

Join the NRA today and do your part to help preserve our gun rights (and save $10).
Tags for this article: Gun and Accessory Reviews, Revolver, Shotgun